Bear River High School


Class Of 1963
In Memory
Gwen Anderson (Griggs)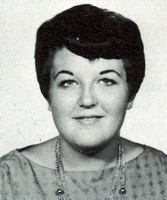 Gwen Anderson Courtright Griggs
May 25, 1945 – December 20, 2006 (61 years old)
Obituary:
Gwen Anderson Courtright Griggs, 61 passed away Dec 20, 2006 at her home in West Valley City, Utah from complications of surgery. A memorial service will be held Friday, December 29, 2006, 2:00 p.m. at the Jordan Parkway Ward, under the direction of Bishop George Saddler. Arrangements have been made under the direction of McDougal Funeral Home.
Gwen was born May 25, 1945 in Tremonton, Utah, daughter of Ray and RaNae Mason Anderson. She married Robert Thomas Griggs, March 7, 1990 in West Valley City, Utah. She drove for UTA for 21 years and was a driving instructor. She will be missed greatly by her dog, Tipper.
Survived by her husband, Robert; children: Terri Courtright, Lynnette Courtright, Sharon Salazar and Kimberly (Kenneth) Nelson; seven grandchidren; JayDe, Kevin, Andrew, Marcus, Breanna, Tyler and Trenton; great-grandchild Dylan; four brothers; four sisters. She was preceded in death by her father and two brothers.