Bear River High School


Class Of 1963
In Memory
Gordon Boyce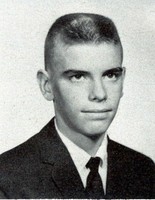 Gordon Jack Boyce
May 18, 1945 – October 2, 2010 (65 years old)
Obituary:
Gordon Jack Boyce, 65, of Midvale, Utah, died October 2, 2010, tragically in a hang gliding accident doing what he loved most! A celebration of life will be held on October 9th, beginning at 3:00 p.m.; 563 East Spruce Glen Road, Murray, Utah.
He was born on May 18, 1945, the son of the late Jack and Dorothy Boyce. He was the oldest of four children, John Boyce, Diane (Eddie) Sunday, Kenneth (Leesa) Boyce. In the spring of 2005 He married his longtime sweetheart, Kay.
He is survived by his wife, Kay; daughter, Michelle (Dean) Gilles; son, Kurt Gordon Boyce; Two step daughters, Dawn (John) Dangerfield and Amber (Tupu) Taosoga; grandchildren, Michael, Cassidy, Bryce, Alex, Pahri, McKenzie, Bailey, Hunter, and Ashlyn; his siblings; many nieces, nephews, family and wonderful friends.
It is evident to any one that knew him that he died doing what he loved best! His enthusiasm for adventure, gift to tinker, creative spirit and zest for life will be carried on in the hearts of his entire family and close friends forever. He will be missed by all who had the pleasure of knowing him.