Bear River High School


Class Of 1963
In Memory
James DeJarnatt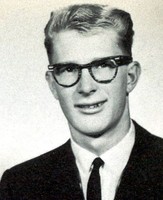 James Elliott DeJarnatt
April 24, 1945 -- October 4, 2011 (66 years old)
Obituary:
James Elliott DeJarnatt, 66, died October 4, 2011 surrounded by his family at his son's home following a brief bout with colon cancer. A private gathering for family and friends will be held at Rudd Funeral Home, 1245 South Main, Garland, Utah from 10:00 to 11:00 am on Saturday, October 8, 2011.
James leaves his son, Cary James (Tiffany) DeJarnatt; his daughter, Jill (Kevin) Woten; his brothers Don (Miranda) and Paul (Kitty) Dejarnatt; four grandchildren and many close friends.
Born and raised in Howell, Utah, the son of Steve and Hellen Bell DeJarnatt. He was married to RoLayne Olsen and then later divorced. He later married Cheryl Bowman and divorced but she still remained a close friend. After graduating from Bear River High School in 1963, Jim attended Utah State University, then soon after joined the Marine Corps. After the Marine Corps, Jim worked as a police officer in Brigham City, Utah, Tremonton, Utah, and Sweetwater County, Wyoming, as well as volunteering as a First Aid Instructor for the Sweetwater County Search and Rescue. In 2002, Jim took a position with the US. Department of Labor as a Mine Safety and Health Inspector, based out of Anchorage, Alaska. Throughout his life Jim was passionate about the mountains; hunting, by a river fishing, or just enjoying time spent by a campfire with close friends and family.
He is preceded in death by his parents and brother, Ken.