Bear River High School


Class Of 1963
In Memory
Elsie Erickson (Hill)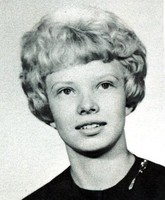 Elsie Ann Erickson Hill
May 25, 1945 – June 16, 2008 (63 years old)
Obituary:
Ogden, Utah - Elsie Ann Erickson Hill, 63, passed away on Monday, June 16, 2008, at her home. Funeral services will be held on Friday, June 20, 2008 at 10:00 a.m. at Myers Mortuary, Brigham City, Utah. Friends may call on Thursday from 6-8 p.m. and on Friday from 9 to 9:45 at the Mortuary. Interment will be in the Elwood Cemetery.
Elsie was born in Brigham City on May 25, 1945 a daughter of John Gabriel and Geneve Larsen Erickson sister to Arlo and Jack Erickson. She married H. Gerald Hill in 1965 and they had two daughters. They later divorced.
Elsie enjoyed working at Thiokol until 1995. She always said that working at Thiokol was the best time of her life.
She was very proud of the fact that she graduated Cum Laude from Weber State in 2005 with a Bachelor in Sociology and a minor in Women's Studies. Elsie also enjoyed tutoring students in writing while attending Weber State.
Elsie is survived by her two daughters, Marine (Paul) Bair, Brigham City, UT; and Suzanne Hill, Salt Lake City, UT; Three grandchildren: Courtney, Chris, and Casey Bair. She was a wonderful mother and always said the thing she was the most proud of was her daughters. She will be missed dearly.