Bear River High School


Class Of 1963
In Memory
Roberta Madsen (Standridge)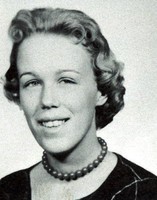 Roberta Lee Madsen Standridge
May 21, 1945 – December 2, 2008 (63 years old)
Obituary:
Roberta Lee Madsen Standridge, 63, passed away Tuesday, December, 2, 2008, at McKay-Dee Hospital. Funeral services were held Saturday, December 6, at 12:30 p.m., at Tremonton South Stake Center, 1150 South Tremont Street. Friends and family called Saturday from 10:00-11:30 a.m. at Rogers and Taylor Funeral Home, 111 North 100 East. Interment will be at Tremonton Riverview Cemetery.
She was born May 21, 1945, in San Francisco, California, to Dean LeRoy and Leota Hughes Madsen. She was reared and educated in Tremonton and graduated from Bear River High School. She married Ronald Lee Standridge, January 5, 1963 in Tremonton.
Roberta was a member of the Church of Jesus Christ of Latter-day Saints. She served as choir director, visiting teacher, Primary teacher and would call members and their families on their birthdays. She was always very aware of others.
Surviving is her husband, Ron; Children: J' Dean Standridge, Tremonton and Ronette Davis, Brigham City; and four grandchildren. She is preceded in death by her parents and a brother, Larry Dean Madsen.