Bear River High School


Class Of 1963
In Memory
Alan Munns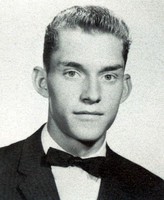 Alan Reed Munns
March 24, 1945 -- July 28, 2009 (64 years old)
Obituary:
Alan Reed Munns passed away peacefully at home with his wife and family by his side on July 28, 2009. A viewing will be held at Hazen-Jaeger Funeral Home, 1306 N. Pines Road, on August 7 from 6-8 pm. Funeral services are Saturday, August 8, at 11am, in the Foothills LDS Chapel, 5322 N. Evergreen in Spokane, Washington.
Alan was a loving kind and giving man, who left his mark on the hearts of everyone he met. He was born March 24, 1945, to Reed and Ruth Munns in Coalville, Utah. He married Faith R. Tolman in the Logan Temple on June 23, 1967.
Alan graduated from Bear River High School in 1963 and attended Utah State University. He was an active member of the Church of Jesus Christ of Latter-day Saints. He served as a missionary, Bishop, and scout leader and held many other callings. He served his communities as President and Chaplain of the Bozeman Montana Jaycees, Deer Park, WA Booster Club, and in the Spokane Executive Club. He was a great support to his boys in all their activities. Alan and Faith own and operate Munns Interiors and Drapery Fabrications.
Alan leaves behind his wife, Faith Tolman Munns, of 42 years, sons; Todd, Bart, Mark and Nathan all of Spokane, Washington, four loving daughters-in-law, Misti, Robin, Janine, and Carrie; 11 grandchildren and one great-grandchild.
He is also survived by his parents Reed and Ruth Munns (Bear River City, Utah), sisters; Carolyn Jensen Idaho Falls, Idaho), and Marilyn Rasmussen (Brigham City, Utah), brothers; Jerry Munns (Layton), and Ronald Munns (Idaho Falls).