Bear River High School


Class Of 1963
In Memory
Doug Richardson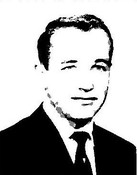 Douglas "Doug" Richardson, 70, passed away on January 7, 2016 in Penrose, Utah. He was born to Roy Oscar Richardson and Marguerite Butler on October 14, 1945 in Brigham City, Utah. He graduated from Bear River high school in 1963. Doug worked at Thiokol, Otto's Body Shop, and at Parson's. On May 31, 1997 he married his sweetheart Sharla Thatcher.
Doug enjoyed reading, golfing, fishing, and spending summers with his family in Malad, Idaho. He also had a great love of cooking and was known for preparing Saturday night meals for the family. His good nature and unique laughter will be missed by all that knew and loved him. Doug was also a member of the Church of Jesus Christ of Latter Day Saints.
He is survived by his wife, Sharla Richardson; siblings Norma Hansen, and Wayne (Peggy) Richardson; daughters Michelle (Mike) Westmoreland and Stephanie (Brad) McKinley; son, Jason (Cami) Rose; 10 grandchildren; four great-grandchildren; father-in-law and mother-in-law Larry and Delila Thatcher; sisters-in-law Karla (Randy) Aoki and Jalyn (Craig) Deakin, and many beloved nieces and nephews.
Doug was preceded in death by his parents, Marguerite Butler Richardson and Roy Oscar Richardson; brothers Dennis and Robert Richardson; sister JoAnn Wehner; brother-in-law Rodney Hansen, and his son Brandon Rose.
A private family viewing for Doug's family will be held on Monday, January 11, 2016 at 3:30 at Rudd Funeral Home, 1234 South Main, Garland, Utah.