Bear River High School


Class Of 1963
In Memory
Lynn Riser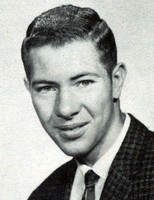 Lynn Grover Riser
November 5, 1944 -- January 23, 2012 (67 years old)
Obituary:
Our beloved father, brother, and son, Lynn Grover Riser, age 67, passed away January 23, 2012 at his home in Tremonton, Utah of natural causes. An intimate viewing will be held from 9:30 am - 10:45 am, Saturday, January 28th, 2012 at the Rudd Funeral Home, Garland, Utah. Funeral Services will follow at the same location at 11:00 am. Interment will be at the East Garland Cemetery.
Born November 5th 1944 in Tremonton, Utah to Martin and Hazel Grover Riser, Lynn was the youngest of three sons. He grew up in East Garland, Utah and graduated from Bear River High School.
His adventurous spirit led him to the wild frontiers of Wyoming and Alaska which honed his hunting skills and fed his passion for shooting and collecting guns.
An accomplished welder and pipe fitter, Lynn worked on projects from the St. Louis Arch to the Alaska Pipeline and produced many creative masterpieces in between, including the Bridger Power Plant boiler and many miles of pipe in Wyoming, numerous welding trucks, pulling trucks and hot rods. He was a long time member of the Plumbers and Pipe fitters Union. Lynn also built several successful businesses, including Risers Welding, constructed his own home, workshops, a log cabin and various other architectural works. He had an admirable work ethic.
Lynn had a rare courage to live his life fully and on his own terms. He loved and supported his family and was loved by them in return. He will be sorely missed.
Survived by his mother Hazel Riser; Brother, Brent Riser (DeeLou); Children, Wade LynRiser (Eva); Teri Hunter, Clint Riser, and Bobbie Jean Harris (Chris); and 12 grandchildren. Lynn was preceded in death by his father, Martin Riser, and brother, Dennis Riser.