Bear River High School


Class Of 1963
In Memory
Claine Stenquist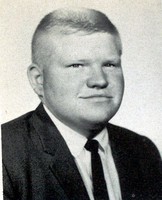 Claine Ray Stenquist
April 11, 1945 -- February 27, 2011 (65 years old)
Obituary:
On February 27, 2011, we lost a giant of a man. Our husband, father, grandfather, brother, coach and friend, Claine Ray Stenquist, passed away after a valiant battle with cancer. He taught his football players to "Fight until the whistle blows," and he did! We will miss him, but his humor and example will never be forgotten. A celebration of his life will be held Monday, March 7, 2011 at 11:00 am, at Pleasant Valley LDS Stake Center, 850 E. 5640 S. in South Ogden. Interment will be at the Linquist's Washington Heights Memorial Park, 4500 Washington Blvd.
Born April 11, 1945 in Tremonton, Utah, Claine made his debut as the youngest son of John Einor Stenquist and Marjorie Cornwall. He inherited a love for the land and never strayed from his roots. After graduating from Bear River High School in 1963, he served an LDS mission to the Northern Indians teaching the people of the Black Hills and developing a strong testimony of the Savior and love for the gospel.
Claine attended Utah State University where his spark and wit resulted in his being chosen as "Personality of the Year" and elected to the Student Senate. He earned a Bachelor's Degree in Agricultural Education and had a love for teaching his entire life. While in Logan, Claine met the love of his life, Nanette Wood. They were sealed on August 8, 1969 in the Salt Lake Temple. Together they raised three beautiful daughters.
Beginning his career at Roy High School he found his true calling as teacher and football coach for 36 years. He cleverly inspired with humor and fun which attracted everyone to him. He motivated students and especially loved serving as Future Farmers of America Advisor for many years. Known to all as Stenny, he broadened his scope of influence in 1994 when he became the Career and Technology Coordinator for Fremont High School.
His Green King Lawn Care business cultivated many friendships. He had a passion for the outdoors, woodwork, Dutch oven cooking and being the life of the party. After retirement, Nanette and Claine traveled extensively spending many wonderful times together all over the world. They visited numerous foreign lands and found new friendships along the way.
Throughout his life he served in many capacities in the church especially as ward and stake Young Men's President, in Bishoprics, and currently as High Priest Group Leader. He served everyone valiantly from the youth to the widows he loved.
Claine had a huge heart and gave all he had to lift others. He had many friends from every walk of life and truly enjoyed entertaining them. He lived what he preached to his players, "Leave it all on the field. No regrets."
His legacy lives on with his wife, Nanette and children Cami (Mark) Newey, Wendee (Danton) Butters, and Angel (Jimbo) Larsen and eight and a half grandchildren. Papa Stenny will ever be remembered as a hard worker whose greatest love was his family.
Also surviving are his siblings Leah Conger, Norris (Ann) Stenquist, Shirley (Jerry) Iverson, Delos (Bonnie) Stenquist; and brother-in-law, Brian (CoLene) Wood. He was preceded in death by his parents, brother-in-law, Leo Conger and brother Robert Stenquist.