Bear River High School


Class Of 1963
In Memory
Peggy Christensen (McNeely)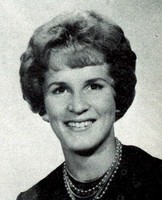 Peggy Ann Christensen McNeely
September 5, 1945 – February 14, 1968 (22 years old)
Obituary:
Willard, Box Elder County - Peggy Ann Christensen McNeely, 22, Tremonton, Died February 14, 1968, 2:40 p.m. in Willard of gunshot wounds. Funeral Saturday 2 p.m. Tremonton Fourth Ward Chapel. Friends call at Rogers Mortuary Tremonton, Friday 7-9 p.m. Saturday after 12.30 p.m. Burial, Riverview Cemetery, Tremonton.
Born September 5, 1945 in Brigham City, a daughter of R.A. and Evelyn Mary Richardson Christensen. Married to Clair A. McNeely May 8, 1964, Tremonton. Member of The Church of Jesus Christ of Latter-day Saints. Graduate of Bear River High School in 1963. Defense Depot Queen, 1967. Had been chosen as the Defense Depot Rodeo Chairman for 1968.
Survivors: sons Michael J., Kris Clair, both of Tremonton; parents, Tremonton; Sisters Mrs. Vernon (Joyce) Harris, Tremonton; Mrs. Bert (Connie) Rhodes, Caliente, Nevada.