Bear River High School


Class Of 1963
In Memory
Ted Coombs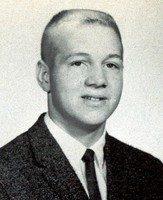 J. Ted Coombs
August 15, 1945 – June 13, 1992 (46 years old)
Obituary:
J. Ted Coombs, 46 of Hyrum died Saturday, June 13, 1992 in Malad, Idaho of a heart attack. Funeral services will be held Wednesday, June 17, 1992 at noon in the Hyrum LDS Stake Center, 600 South 200 East Street in Hyrum with Bishop Richard E. Spillman of the Hyrum 6th Ward conducting. Friends may call Tuesday evening from 6-8 at Cranney Mortuary in Logan and at the church Wednesday morning from 10:30 a.m. until time of services. Interment will be in the Smithfield Cemetery.
Ted was born August 15, 1945 in Alamosa, Colorado, the son of Paul Woodrow and Bonnie Cornum Coombs. He married Sharon Nelson Brown on July 8, 1977 in the Idaho Falls Temple.
As a child, Ted moved with family to Tremonton where he was raised and attended school. He was a graduate of Bear River High School and was an avid swimmer on the Bear River High School swim team. Ted was active in the Explorer Scouts, and the young adult groups. He served in the Central States Mission and was an active member of the LDS Church. Ted also served in the United States Army.
Ted is survived by his wife, Sharon, of Hyrum; a stepson Jason Brown, currently serving in the Michigan LDS Mission; a son Matthew T. Coombs and two daughters, Flecia Coombs and Kristina Coombs all of Hyrum. Also surviving are his parents of Tremonton, two brothers, eight sisters and their spouses; Diane and Glenn Taylor of Plain City, Bonnie Sue and Curtis Grover of Tremonton, Vickie Ann and Tom Allsop of Pinesdale, Montana, Rebecca and Glenn Holland and Jim and Debbie Coombs all of Tremonton, Sam and Betty Coombs of Thatcher, Debra and Randy Ward of Roy, Pam and Murray Larsen of Newton, Alyane and Doug Donseley of West Valley City, Lori and Tim Heyder of Snowville. He was preceded in death by a brother, Mark.