Bear River High School


Class Of 1963
In Memory
J. Lee Giles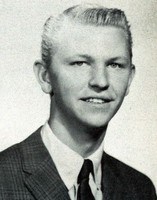 J. Lee Giles
December 18, 1944 – July 23, 2002 (57 years old)
Obituary:
Tremonton - J. Lee Giles, 57 died July 23, 2002 at the McKay-Dee Hospital in Ogden of a stroke. He was born December 18, 1944 in Tremonton, the son of Myron and Constance Christina Jensen Giles. Funeral services will be held Saturday, July 27, 2002, 2 p.m. at the Tremonton LDS 3rd Ward Chapel. Friends may call Friday July 26th from 7-9 p.m. and Saturday, July 27th from 12:30 to 1:45 at Rogers and Taylor Funeral Home. Burial will be in the Riverview Cemetery, Tremonton.
J. Lee lived his entire life in Tremonton and was a graduate of Bear River High School. He was a member of the Tremonton 3rd Ward of the Church of Jesus Christ of Latter-day Saints. He served in the National Guard. He married Berneice Pringel on February 5, 1971. They were later divorced. J. Lee enjoyed spending time with his birds and building model airplanes.
He was preceded in death by his parents. He is survived by his children, Wendy Saunders, Ogden; James (Dixie) Giles, Elwood; Jason (Sheri) Giles, Layton; Jeff Giles, Tremonton; Justin (Erica) Giles, Malad, ID; six grandchildren; a brother Myron (Mary Ellen) Giles, Tremonton; sisters, LaRaine (Ladell) Harris, Bothwell; and Connie (Devon) Sessions, Tremonton.