Bear River High School


Class Of 1963
In Memory
Gayle Petersen (Harrison)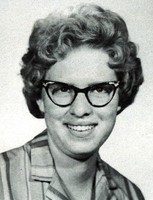 Gayle Petersen Harrison
February 11, 1945 – March 2, 1973 (28 years old)
Obituary:
Funeral services for Mrs. Gayle Petersen Harrison 28, of San Manuel, formerly of Garland, who was killed in an automobile accident last Friday, near Tucson, Arizona, will be conducted Friday at 1 p.m. in the Garland Tabernacle. Also killed in the accident were her parents, Vida and Stanley Petersen, and her 8-month old son Robert J. Harrison.
Friends may call at the Rogers Mortuary in Tremonton Thursday from 6:30 until 9 p.m. and Friday from 10:30 until 12:20 p.m. Burial will be in the Garland City Cementery.
Mrs. Harrison was born February 11, 1945, in Tremonton, a daughter of Stanley and Vida Carlson Petersen. She was reared and educated in the Bear River Valley and graduated from Bear River High School. She was married to Joel Roy Harrison on March 20, 1964, in the Logan Temple. She was a member of the Church of Jesus Christ of Latter-day Saints and had served as a member of the Singing Mothers, was ward librarian, Primary teacher, Relief Society teacher and visiting teacher and organist.
Surviving are her husband of San Manuel: three daughters, Tonya Sue, Tracy Dawn, Teri Lynn, all of San Manuel: one foster daughter, Dora Mae Watchman, San Manuel. Also surviving are two brothers and six sisters, Glen Stanley Petersen, Richland, Wash.: Lester Dean Petersen, Mrs. Eli (Beth) Misrasi, Mrs. Roger (Jean) Rose, Lareen Petersen, Mary Kate Petersen, Karla Petersen, all of Garland.