Bear River High School


Class Of 1963
In Memory
Charles Sorensen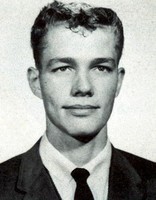 Charles E. Sorensen
November 8, 1944 --- January 7, 2000 (55 years old)
Obituary:
SALT LAKE CITY – Charles E. Sorensen was born November 8, 1944 in Tremonton and grew up in Howell. He died Jan. 7, 2000 in his home after a two-month bout with cancer. He maintained his positive cheerful attitude and his never ending concern for others to his last breath. Funeral services will be held Saturday at 1 p.m. in the East Millcreek Stake Center. Music will be provided by the Tabernacle Choir and the International Children's Choir. Interment will be in Larkin Sunset Lawn. In lieu of flowers, contributions for a special recording honoring Charles may be made to the International Children's Choir.
Charles was preceded in death by his parents, Ariel Elmer Sorensen and LuAna Baker Sorensen, and his brother David. He is survived by his wife, Kathy B. Sorensen; 3 daughters, Michelle (Jason) Allen, Amanda (James) Yapias and Adrienne, all of Salt Lake; 5 sons, Charles (Leigh) of Stockton CA, Paige (Amy) of Layton, Jon-Paul of Huntington Beach, CA; Andrew and Heath both of Salt Lake; 4 sisters, Annette ( Stan) West of Salt Lake; Mariel (Lyle) Parker of Wildomar, CA; Marie (Ken) White of Tremonton; Diane (Terry) Walker of Gilbert AZ, 2 brothers, Alvin of Spanish Fork and Carl of Logan; and 8 grandchildren.
Charles served in the Great Lakes Mission (Ohio, Indiana, and Michigan). He served as Missionary Committee Chairman for the Tabernacle Choir's 1998 European Tour and was fervently looking forward to serving a mission during retirement. Charles was engaged to Kathy by the Danube River in Szentendre, Hungry, and married her in the Manti Temple. Charles and Kathy sang together in the Tabernacle Choir since 1988. Music filled his life. Charles played tuba and string bass and toured Europe with the School Band of America. He graduated from U.S.U. with a Bachelors of Music degree. He was travel coordinator for several Tabernacle Choir tours and tour manager for five International Children's Choir concert tours, including Israel and Jordan this past summer.
Charles had the opportunity for a career in a symphony orchestra, but decided the schedule was not conductive to a good family life, so he earned a Bachelor of Science degree in Finance and entered the world of business. He was employed by Connecticut Mutual Life/Massachusetts Mutual Life since 1972, specializing in employee benefits. He served as President of the Salt Lake Association of Life Underwriters, President of the Utah Association of Life Underwriters and as National Committeeman for UALU. He was voted by the Utah Association of Insurance and Financial Advisors to receive the life Achievement Award for contributions and leadership in his profession, community, church and family. He is a charter member of the BYU Risk Management Department.
At the time of his death he was President of the Board of Directors of the Imperial Hawaii Vacation Club (a Waikiki resort), President of the International Children's Choir School, Vice Chairman for the National Association of Life Underwriters, and Vice President of the Western States Forum.